Date: 6-10 March, 2023 | in Kitakyushu, Fukuoka & Goto, Nagasaki | Front-runner Practices of Creating Synergy Effects from Renewable Energy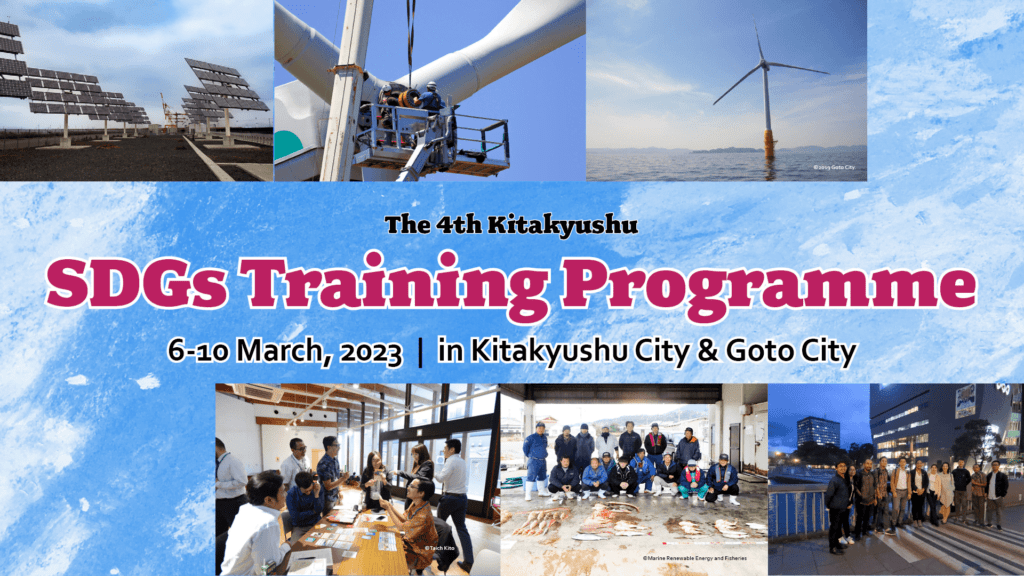 We are excited to announce that IGES will hold the 4th Kitakyushu SDGs Training Programme ON-SITE from 6 to 10 March, 2023.
We'll visit two cities of Kitakyushu City, Fukuoka, and Goto City, Nagasaki, in Kyushu region, Japan, to learn the front-runner practices of creating synergy effects from renewable energy. This programme contains discussion with local stakeholders such as local municipalities, renewable energy companies, and fishery associations as well as lectures on SDGs locarisation and SDGs card games.
IGES will cover the participation fees for this training. The target group is university students. We welcome applications from students who have high interests in SDGs!!
Outline of the programme
Date: 6-10 March, 2023
Cities to visit: Kitakyushu City (Fukuoka Prefecture) and Goto City (Nagasaki Prefecture)
Language: English & Japanese
Participants: max. 10 university students for free of charge
Eligibility for Free-of -Charge Participation:

University students (undergraduate, graduate, post-doctoral) with any nationality (non-Japanese & Japanese) who are capable of the followings:

can speak English (Discussion will be held only in English) ;
can come to Kitakyushu City on your own on 5 March and return from Fukuoka Airport or Nagasaki Port to your home on your own;
have high interest in the SDGs with focus on the environment in local context;
can submit the required application documents.

How to apply for free participation

Fill in the application form on next page
Attach the followings

Essay of about one A4 page on your motivation and utilization of participation of this training
Copy of your student card (jpg or png)
Copy of your insurance card (jpg or png)
Application Form is on page 2. (Deadline: 5 February, 2023)
Please see the PDF as below for the information about the schedule, eligibility for free-of-charge participation, and how to apply.