Related Publications
September 23, 2021
2022-04-18 8:22
Related Publications
Related Publications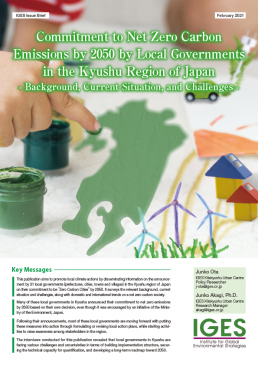 This publication aims to promote local climate actions by disseminating information on the announcement by 31 local governments in the Kyushu region of Japan on their commitment to be "Zero Carbon Cities" by 2050. It compiles the background, current situation and challenges, along with domestic and international trends on a net zero carbon society.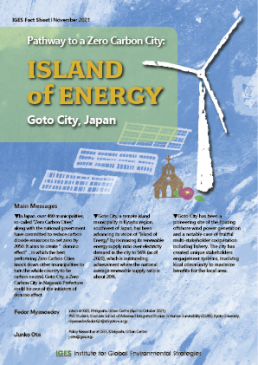 In Japan, over 460 municipalities, so-called "Zero Carbon Cities" along with the national government have committed to reduce carbon dioxide emissions to net zero by 2050. It aims to create "domino effect", in which the best performing Zero Carbon Cities knock down other municipalities to turn the whole country to be carbon neutral. Goto City, a Zero Carbon City in Nagasaki Prefecture could be one of the initiators of domino effect.
Goto City, a remote island municipality in Kyushu region, southwest of Japan, has been advancing its vision of "Island of Energy" by increasing its renewable energy supply ratio over electricity demand in the city to 56% (as of 2020), which is outstanding achievement where the national average renewable supply ratio is about 20%.

Goto City has been a pioneering site of the floating offshore wind power generation and a notable case of fruitful multi-stakeholder cooperation including fishery. The city has created unique stakeholders engagement systems, involving local community to maximize benefits for the local area.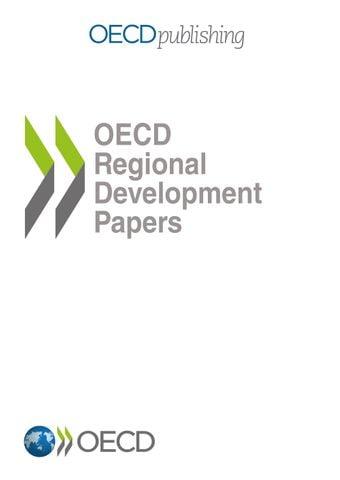 Over the past decades, the city Kitakyushu, located in the southwest of Japan, has transformed from a manufacturing hub into a city putting strong emphasis on sustainability. The city has developed an SDG-based vision, which outlines the city's main sustainable development targets and actions and sets up a governance framework with a strong focus on citizen participation and private sector engagement. Several local development challenges remain, including population decline, an ageing society and the lack of attractive job opportunities. The SDGs provide a framework to address those challenges in an integrated way. As reflected in Kitakyushu's Voluntary Local Review and participation in the SDGs Future City initiative, 17 actions shape the local vision to foster sustainable development through, in particular, the transition to low-carbon energy production and a circular economy, female empowerment, inclusion of vulnerable groups and international cooperation.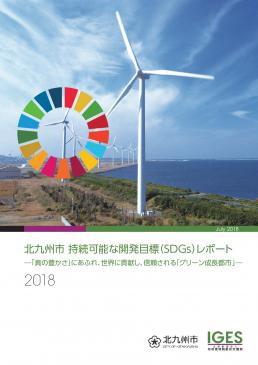 This report, jointly produced by Institute for Global Environmental Strategies (IGES) and Kitakyushu City seeks to contribute to the sharing of good practices on the SDGs between local authorities, illustrating how Kitakyushu City is driving action on the SDGs both in terms of policy and planning. This report is structured around the "Handbook for the Preparation of Voluntary National Reviews: 2018 Edition", taking into account specific characteristics and the level of progress on SDGs initiatives of Kitakyushu.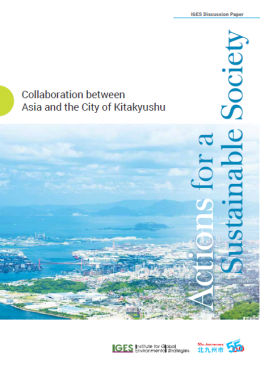 With the adoption and entry into force of the Paris Agreement and Sustainable Development Goals (SDGs), eyes are turning to the efforts of sustainable cities. Taking this as an opportunity, the Kitakyushu Urban Centre, IGES, investigated and analysed the factors that enabled Kitakyushu to conduct continuous cooperation activities in diverse areas based on case studies of cooperation with fi ve cities in Asia (Dalian, Phnom Penh, Surabaya, Hai Phong, and Mandalay) and a focus on the intercity cooperation schemes that Kitakyushu has been involved in for almost 40 years. The results of these studies and analyses have been compiled to produce this report.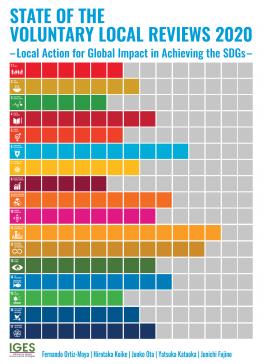 With only ten years left to achieve the ambitious Sustainable Development Goals (SDGs) adopted by all UN member States in its 2030 Agenda for Sustainable Development, action is more urgent than ever. Cities, which are responsible for delivering many of the targets highlighted by the SDGs are accelerating their efforts. This is recognised by the growing number of local and regional governments that have embarked on a process to track their progress and plan for future strategies. Known as a Voluntary Local Review (VLR), this exercise becomes an opportunity for local governments to engage in global processes to accelerate the implementation of the SDGs, while at the same time, capitalising on the SDGs inherent potential to induce change.
This report reviews all the VLR Reports identified by the authors (as of February 2020) carried out by local governments in their determination to localise the SDGs. It compiles their main messages and provides the current stage of this emerging movement. Along with the description of the overall contents of each VLR, this report focuses on two key aspects of the VLR process: first, the stakeholder engagement process following the SDGs motto of leaving no one behind; and second, their relation to the national review process of the SDGs or Voluntary National Review (VNR). In doing this analysis, this report aims to become a reference guide for other cities seeking to carry out their own VLR process.
Through this review, two main themes emerged as needing further attention for cities embarking on their own VLR journey. First, in many cases, the VLR process focused on aligning current policies with the SDGs and their targets and on monitoring progress, but did not explicitly include a stakeholder engagement process. Second, cities have started this effort even though there is no current official United Nations' process giving local governments similar opportunities to national governments. To address this issue, the present report presents a five tier approach to VLRs intended to strength the transformative potential of the next generation of cities intending to localise the SDGs. Nevertheless, the first generation of VLRs shows a praiseworthy commitment to sustainable development and to the 2030 Agenda.